Barnard's Archaeology Field School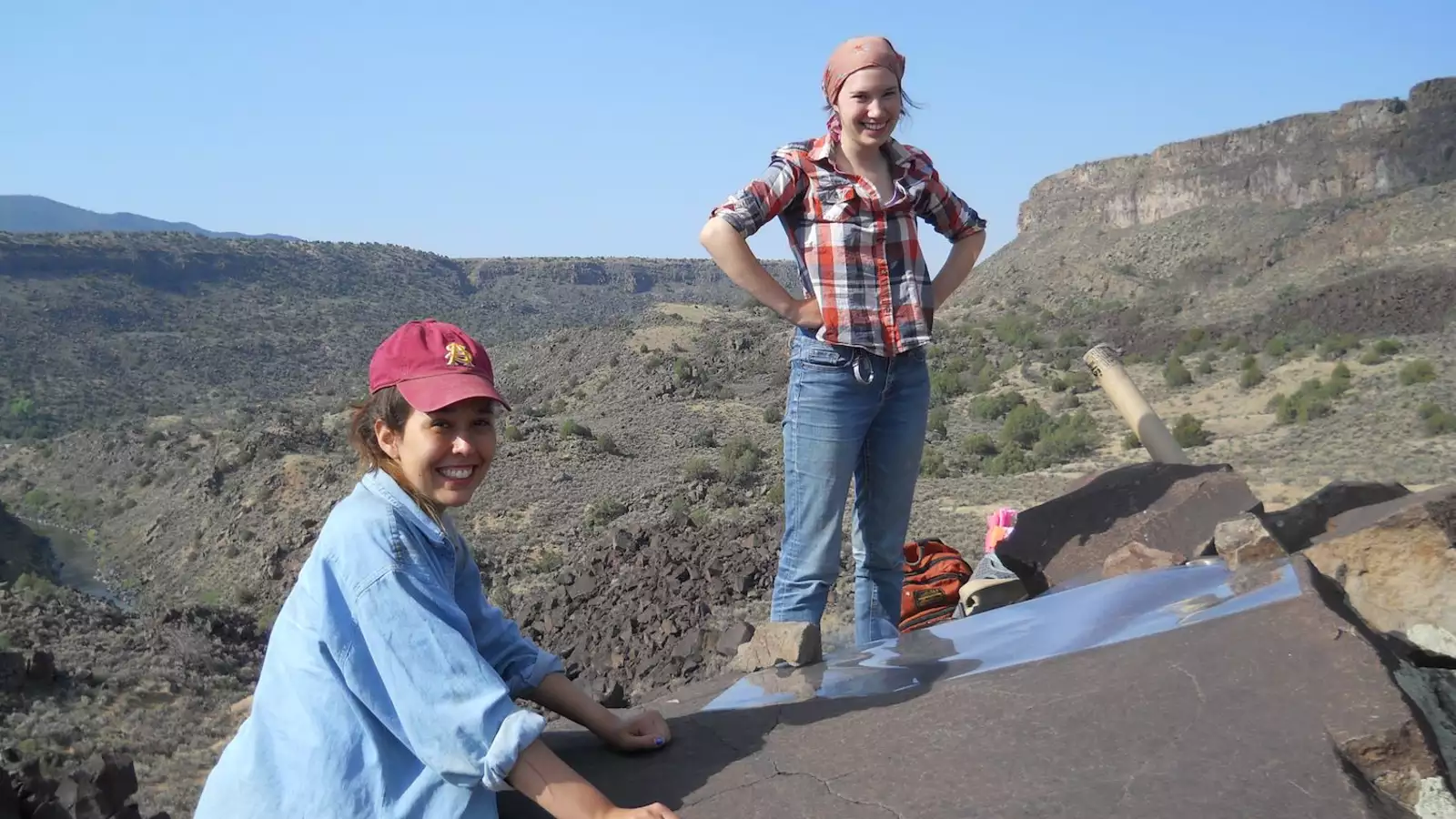 Indigenous Landscapes, Water, and History: Thinking Like a Watershed in Northern New Mexico
Participate in summer archaeological research in New Mexico!
The Barnard Department of Anthropology is pleased to announce its 2020 summer field program, designed to provide students with training in the methods of archaeology and oral history while studying the rich indigenous and settler histories of the American Southwest. Work alongside Prof. Fowles and his colleagues in beautiful northern New Mexico and help write new histories of the past while serving communities in the present...
ANTH BC2011 (Field Methods in Archaeology)
May 29 to June 26, 2020
4 credits
Fulfills: Lab Science requirement (Barnard Foundations)
Application Deadline: April 1 (apply here)

Primary Instructors:
Dr. Severin Fowles (Anthropology and American Studies, Barnard College)
Dr. Levi Romero (Chicano/a Studies, University of New Mexico)
Research Collaborators (co-PIs):
Richard Mermejo (Former Governor and War Chief, Picuris Pueblo)
Dr. Michael Adler (Anthropology, Southern Methodist University)
Dr. Lindsay Montgomery (Anthropology, University of Arizona)
"Field Methods in Archaeology" is an intensive 4-week course organized around a unique set of collaborations between scholars, students, and the Indigenous and Hispano communities of the Rio Embudo Watershed in northern New Mexico. Participants in the course gain formal training in archaeological field methods (pedestrian survey, site mapping, in-field artifact analysis, excavation, remote sensing, artifact and sample processing) as well as in the methods of oral history (structured and unstructured interviews and ethnogeography), while helping build new understandings of the complex political and ecological histories of the region. In the process, participants work closely with local stakeholders and are guided in the development of interdisciplinary research projects that integrate the sciences and humanities and that are accountable to descendant communities.
During the 2020 summer field season, we turn to examine the past six hundred years of inter-cultural relations in the mountain valleys of the Rio Embudo watershed, the traditional homeland of Picuris Pueblo and, since the early 18th century, of many rural Hispano communities. Working in formal partnership with Picuris Pueblo and through a network of established relations with local Hispano families, students will have the rare opportunity to participate in research that marries academic inquiry with the goals and priorities of descendent communities. The archaeological component of our research will be conducted on Picuris tribal lands under the supervision of, and in collaboration with, tribal leaders. There, we will conduct surveys and excavations designed to document (1) the history of indigenous water use, (2) the growth of sacred relationships to the watershed through land-based ceremonies, and (3) the emergence of a regional political economy during the 15th and 16th centuries in which resident Picuris farmers exchanged corn and pottery for the bison meat and hides obtained by migratory Apache groups who increasingly entered the region from the Southern Plains. The oral historical and ethnogeographical components of our research will be multi-sited, designed to examine the new intercultural relationships that arose not just between Picuris and the Apache but also between both these indigenous groups and nearby Spanish-speaking communities over the course of the colonial period, resulting in the rich Indo-Hispano traditions of the region today.
Where and When:
The field program is based in the midst of the beautiful and historic community of Dixon in northern New Mexico, just one mile from the Rio Grande with a view of the Sangre de Cristo Mountains. Students are housed in an adobe residence in the center of the village, where they have daily access to a General Store, Library, Post Office, and Cafe. Fieldwork and field trips during the course provide an opportunity to explore many historically significant sites throughout northern New Mexico, including Chaco Canyon, Taos Pueblo, Ohkay Owingeh, Pot Creek Pueblo, Chimayo, the Rio Grande Gorge, Santa Fe, and more. Participants should arrive at the Albuquerque International Airport before 2:30 pm on May 29 and depart after 11 am on June 26.
Learning Outcomes: Students who successfully complete this course will be able to...
design and conduct pedestrian surveys.
create maps of archaeological sites using tape-and-compass, GPS, and laser transit techniques.
conduct archaeological excavations, including the establishment of excavation units, excavation in both arbitrary and natural levels, documentation of horizontal exposures as well as stratigraphic profiles, and collection of special samples (e.g., flotation, pollen, phytolith and radiocarbon samples).
conduct oral history and ethnogeography research with members of descendant communities, aware of the ethical and legal complexities involved.
compose a professional report documenting survey, excavation, and/or oral history activities.
Eligibility:
An interest in the past and its relevance to the present is the only prerequisite. No prior experience in archaeology or anthropology is necessary. Enrollment in ANTH BC2011 is limited to 10 students, with preference given to Archaeology and American Studies majors at Barnard College and Columbia University, to Chicano/a Studies majors at the University of New Mexico, and to individuals of Native American and Hispano descent, regardless of their institutional affiliation.
Cost and Financial Support:
Tuition: $4,500 (4 credits) (see below for financial support possibilities)
Food/lodging: Included in tuition fee
Administrative fee (only for non-Barnard/Columbia students): $150
Barnard and Columbia students may also apply for the following merit-based grants and fellowships to help cover the costs of participation:
Barnard Archaeology Fieldwork Grant: provides a limited number of students with up to $3,500 in support for their participation in ANTH 2011. Contact Prof. Fowles (sfowles@barnard.edu) for details. (Deadline: April 15, 2020)
Barnard Anthropology Fieldwork Grant: provides a limited number of students with support for summer research projects (typically $500). Available to Barnard Anthropology majors. Contact Prof. Fowles (sfowles@barnard.edu) for details. (Deadline: April 2020)
Robert Stigler Fund for Archaeological Research: typically provides $500 to support first-time field experiences. Available to undergraduates at Barnard or Columbia. Contact Prof. Fowles (sfowles@barnard.edu) for details. (Deadline: April, 2020)
Ella Deloria Undergraduate Research Fellowship: provides a limited number of students with support for summer research projects (typically less than $2,000). Available to Columbia Anthropology majors. See http://anthropology.columbia.edu/undergraduate-research-fellowships (Deadline: April, 2020)
Tow Summer Research Fellowship: provides a limited number of students with support for senior thesis research projects (fellowships range from $1,000 to $4,000). This is a competitive fellowship available to Barnard juniors engaged in senior thesis research. Students should contact Dean Leong, the junior class dean, during the fall semester to express interest. (Deadline: Feb 27, 2020)