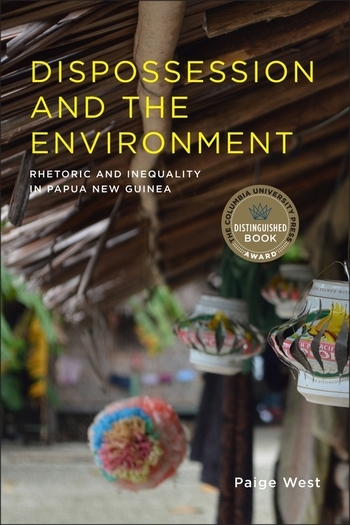 The Columbia University Press Distinguished Book Award is awarded annually by the Press to a book by a Columbia University faculty member that brings the highest distinction to Columbia University and Columbia University Press for its outstanding contribution to academic and public discourse. The 2017 award winner is Dispossession and the Environment: Rhetoric and Inequality in Papua New Guinea, by Paige West, Claire Tow Professor of Anthropology, Barnard College, Columbia University. 
About Dispossession and the Environment:
When journalists, developers, surf tourists, and conservation NGOs cast Papua New Guineans as living in a prior nature and prior culture, they devalue their knowledge and practice, facilitating their dispossession. Paige West's searing study reveals how a range of actors produce and reinforce inequalities in today's globalized world. She shows how racist rhetorics of representation underlie all uneven patterns of development and seeks a more robust understanding of the ideological work that capital requires for constant regeneration.